monochrom featured in reader "Truth is Concrete"

A handbook for artistic strategies in real politics.
How does art play a role in social and political struggles all over the world? Can it be a tool with which to shape the world rather than just reflect it? Following on from the "Truth is concrete" 24/7 marathon camp at the 2012 steirischer herbst festival, a manual of artistic strategies in politics and society is to be published in spring 2014 and is now available for pre-ordering. "Truth is concrete" collects 100 strategies by artists, activists and theorists, mapping the broad field of engaged art and artistic activism today. Additional essays focus on the philosophy, structures and modalities behind the many fights to make this world a better place.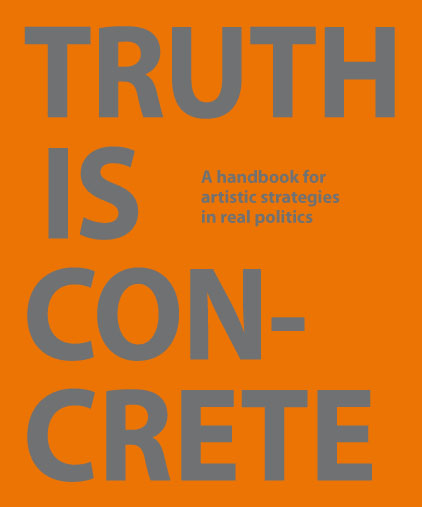 Essays by Stephen Duncombe & Steve Lambert, Alanna Lockward, Chantal Mouffe, Florian Malzacher, Gerald Raunig & Jonas Staal
A conversation with etcetera, Nato Thompson & WHW
Original contributions by Adbusters, Jonathan Allen, Udi Aloni, Hector Aristizabal, Artleaks, Katherine Ball, Leah Borromeo, Andrew Boyd, Tania Bruguera, Boris Buden, Carlos Celdran, Center for Political Beauty, chto delat, church of kopimism, Santiago Cirugeda, Corrupt Tour, Gabriela Csoszó, Minerva Cuevas, Neil Cummings, Diedrich Diederichsen, Charles Esche, Roza El Hassan, Femen, Noah Fischer, Andrea Fraser, Isabelle Fremeaux, Christine Gaigg, Ganzeer, Federico Geller, Marina Grznic, Núria Güell, Erdem Gündüz, Hans Haacke, Stefano Harney, Carl Hegemann, iconoclasistas, Institute for Human Activities, International Institute for Political Murder (IIPM), Janez Janša, Khaled Jarrar, Anna Jermolaewa, Jeudi Noir, John Jordan, Kaddu Yarrax, Kavecs, Janice Kerbel, Jisun Kim, Omer Krieger, Mierle Laderman Ukeles, André Lepecki, Lexxus Legal, Lawrence Liang, Liberate Tate, Geert Lovink, Matteo Lucchetti, Oliver Marchart, Joana Mazza, Tomislav Medak, Markus Miessen, Monochrom, Mosireen, Jean Luc Moulène, Rabih Mroué, Michael Murin, Marina Naprushkina, Neue Slovenische Kunst (NSK), occuprint, Ahmet Öüt, Robyn Orlin, Sibylle Peters, Pixadores, Sra Popovi, Raivo Puusemp, raumlaborberlin, Reverend Billy, Richard Reynolds, Scott Rigby, Irit Rogoff, Florian Schneider, Shared Inc., Gregory Sholette, Stevphen Shukaitis, Mladen Stilinovi, Kuba Szreder, Claire Tancons, The Haircut Before The Party, The Laboratory of Insurrectionary Imagination (LABOFII), The Pinky Show, the vacuum cleaner, The Yes Men, Tiqqun, Tools for Action, Ultrared, Marina Vishmidt, VOINA, Joanna Warsza, WochenKlausur, Stephen Wright, Yomango, Salam Yousri, Wu Yuren et al.
Edited by steirischer herbst & Florian Malzacher
Co-edited by Anne Faucheret, Veronica Kaup-Hasler, Kira Kirsch, Andreas R. Peternell & Johanna Rainer
Sternberg Press
April 2014, English
16 x 22 cm, approx. 300 pages
Retail price € 19.00
(Till 12/04/2014: € 17,00)
Link